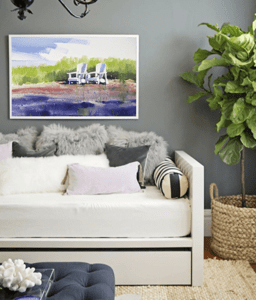 Artists tend to want to do something different from time-to-time. There's a familiar theme in the art world that says that artists should paint the themes or palettes that they know best. Thomas Kinkade had his cottages at twilight, Bob Ross used a palette knife for his landscapes and Trisha Romance uses an element of magic to create romantic family scenes. The theory is the artists' audience looks for an aspect of a painting that is familiar to their life or an emotion that stirs a feeling that sometimes can't be described.
Many of my colleagues and I like to mix-it-up. I'm very confident with moody seascapes and still landscapes. But from time to time I sit in a life drawing class and the human form causes me to challenge my art. I use a softer palette when painting nudes, graceful but bold strokes to form curves and subtle shadows to create life on my easel. My brush strokes differ depending on the scene and when you observe my abstracts they are much more controlled with distinct definition.
A painting can set the tone in a room. It's not just a pretty picture. The admirer sensed a familiarity with the subject matter or the painting stirred an emotion to ask the question – what's the story behind the art?